Many people wear contact lenses because of their convenience over glasses. What if there was another option for correcting your vision that didn't require LASIK?
You may not know about a refractive procedure called the Visian ICL that corrects myopia or nearsightedness. The Visian ICL is an implantable contact lens that can improve your vision without the inconvenience of glasses and disposable contacts.
Keep reading to learn more about the Visian ICL and if it could be right for you!
What is an Implantable Contact Lens?
The Visian ICL is also known as the Implantable Collamer® Lens. With the Visian ICL, you may not need to wear glasses or contacts. Worldwide, over 40,000 patients have benefited from this procedure. In addition, it has an over 99 percent satisfaction rate!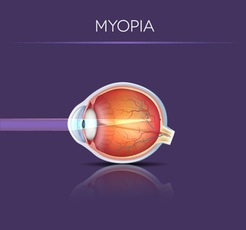 The lens does not require removing corneal tissue. This implantable lens is an excellent option for people who have been told they can't have LASIK because of high prescriptions or thin corneas.
Unlike LASIK or other refractive procedures, the Visian ICL is removable. If your prescription changes with age, an eye doctor can take the lens out and implant a new one. You can also have the Visian ICL removed if you change your mind for any reason.
The Visian ICL is not for people with presbyopia. Those who are nearsighted and farsighted may still get an implantable lens to treat their nearsightedness. They will likely need reading glasses or regular contact lenses to address any farsightedness.
What Should I Expect During the Visian ICL Procedure?
Having the Visian ICL implanted is a simple 20-30 minute procedure. Two to three weeks before having the Visian ICL procedure, your eye doctor will apply numbing eye drops and create two small openings in the iris.
These small openings ensure enough room for fluid to flow once you have the Visian ICL implanted. On the day of your procedure, your eye doctor will administer eye drops to numb the eye and dilate your pupils.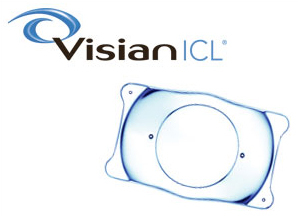 Then, to prepare for the implant, your eye doctor creates one small opening at the cornea's base. It's at this opening that they will insert the Visian ICL.
Next, they'll fold the lens and insert it into the eye through the small incision. After inserting it, your eye doctor will make necessary adjustments to ensure the Visian ICL is in the correct position.
People with astigmatism may need specialized lenses. These lenses feature placement markings to ensure they fit perfectly over the natural lens. You will not be able to see these markings once the implantable contact lens is in place.
There are no adhesives used to close the incision. The eye naturally heals from this small opening. The procedure only lasts around 20 minutes, with a short recovery time afterward. You may be able to see better immediately.
You'll need a ride home as you get used to your improved vision. Your eye doctor will prescribe eye drops to prevent infection and inflammation.
You will schedule an appointment to assess your new vision. Most patients can return to their daily tasks within 24 hours of the procedure.
What is an Implantable Collamer Lens Made of?
The Visian ICL is made of a material called Collamer. Collamer is a biocompatible material that contains collagen.
Using Collamer has many benefits because it's made to be in harmony with the chemistry of your eye. As a result, this biocompatible material can correct nearsightedness and astigmatism.
Collamer is a soft and flexible material, so when the Visian ICL moves in your eye, you won't be able to feel it. The Collamer material even provides you with protection from UV rays from the sun!
One thing that many people appreciate about the Visian ICL is it won't induce dry eye syndrome. This makes the Visian ICL a fantastic choice for vision correction for patients who already have dry eyes.
Will I See or Feel the Visian ICL?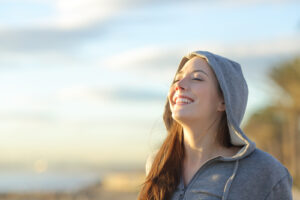 No one will be able to look at your eyes and see the Implantable Collamer Lens. You won't feel it because it is not attached to the structure of the eye.
The lens stays in place naturally, and you will only "see" it because you will experience better vision. Most people notice better vision right after having the lens implanted. This improvement can continue for several days after your eye heals from the procedure.
The Visian ICL never gets dirty or requires removal for cleaning because it stays in the eye and does not require special maintenance.
What are the Benefits of Choosing an Implantable Contact Lens?
People rarely have dry eye issues caused by Visian ICL. This is because the unique Collamer material blends in with the natural eye, making it unlikely to irritate the eye.
This implantable lens does not require reshaping the cornea. The procedure is minimal and won't increase your likelihood of developing dry eye.
The Visian ICL is semi-permanent, meaning you can have an eye doctor take it out later. You may never choose to remove it and will instead enjoy more precise vision.
It does not require special eye exams once you've attended a post-implant appointment. Instead, your eye doctor can inspect the lens during a yearly checkup.
If your eye health changes, your eye doctor may remove the Visian ICL. You may choose to implant a new lens with a different prescription if you need cataract surgery. Eye infection or a change in eye pressure may also prompt lens removal.
Many people find it easier to play sports, get outside, and even date after choosing the Visian ICL. In addition, it's helpful not to worry about changing your contacts or thinking about breaking your glasses during activities.
What Does the Visian ICL Cost?
The Visian ICL is an elective procedure, meaning most insurance plans will not cover it. As a result, patients will likely need to pay out of pocket for this implantable contact lens.
Here at Williamson Eye Center, we're offering $500 off the Visian ICL through August 2021 for qualifying candidates*, making this the perfect time to invest in your vision! We also offer financing and payment plans to help make your dreams of vision correction a reality without going over your budget.  
You may not realize that you could save money by choosing the Visian ICL over wearing glasses and contact lenses. You'll spend less on these visual aids that can quickly add up to hundreds of dollars every year by making this choice.
Ready to learn more about the Visian ICL? With six locations throughout Louisiana, Williamson Eye Center has one that will work for you.
Dr. Charles was an FDA investigator for the implantable lens and has more experience performing this procedure than any other surgeon in the state. Schedule an appointment with us in Baton Rouge, LA, and find out if the Visian ICL could be right for you!
*Some restrictions apply. Please speak to the Williamson Eye Refractive Counseling team for full details and requirements by calling 225-924-2020.