Advanced Lenses – Customizing Your Visual Freedom
During traditional cataract surgery, your eye's natural lens will be replaced with a synthetic monofocal intraocular lens (IOL). The surgery will bring a patients vision back to where it was prior to the onset of cataracts, however, if prior to cataracts he or she had a prescription for glasses or contact lenses, those visual aids will still be required for both distance and reading vision. Many patients are satisfied with this lens, as it restores their vision to a functional point.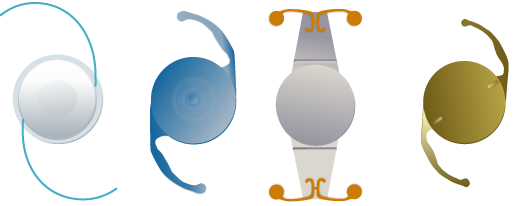 Some patients seek to restore their vision to complete capacity with one surgical procedure, thus leaving glasses or contact lenses behind for life. Recent advancements in visual technology have produced 'advanced lenses,' which can be customized to work with your individual needs. Often referred to as 'lifestyle lenses,' this advanced technology affords patients many advantages over the traditional monofocal lens. Even patients suffering from astigmatism can potentially eliminate dependency on glasses, reading glasses and contact lenses. Imagine having no need for readers to see menus, computer screens, and labels!
At Williamson Eye Center, we work with each patient to develop a customized treatment plan to suit even the busiest lifestyle. It is our commitment to deliver the best results to leave you free of the hassle of glasses and contact lenses for life. You will work with your doctor to determine the best treatment plan and lens for your unique eyes.
---
ADVANCED LENS OPTIONS
Light Adjustable Lens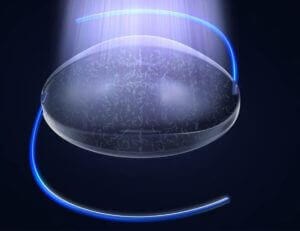 The Light Adjustable Lens was implanted for the first time in Louisiana (and as one of the first in the nation) at Williamson Eye Center in Baton Rouge and is the only place for patients to receive this revolutionary lens in the state. This breakthrough technology delivers superior visual outcomes that non-adjustable lenses simply cannot match.
Imagine being able to test-drive your vision after surgery and having the ability to tailor your vision to your exact needs… that's now possible with the Light Adjustable Lens. The future of vision correction is here, and it's only available for Louisiana patients at Williamson Eye Center.
What's unique about the Light Adjustable Lens is that, after surgery, you will work with your doctor to trial and select your customized lens prescription and make adjustments at a few in-office visits so the results are exactly what you want. Choosing this technology and following the treatment plan increases the likelihood that you will achieve your desired visual outcome after surgery.
---
PanOptix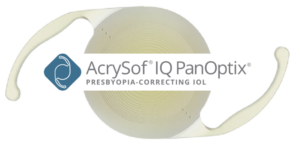 The PanOptix lens is the first and only trifocal lens in the United States designed to optimize intermediate, near and far distance vision, as well as providing an option for astigmatism correction.
PanOptix delivers an exceptional combination of near, intermediate and distance vision and can substantially reduce the need for glasses. Recent studies have shown that these trifocal lenses are safe and effective, with 99 percent of trial participants reporting that they were very happy with the results and would choose this lens again.
Although there are types of IOLs designed to provide both near and distance vision, this new type of IOL allows for improved intermediate and near vision along with better distance vision. Intermediate clear vision tasks include working on a computer or tablet, applying makeup or shaving. Near vision tasks include reading, writing or sewing.
This innovative new lens was first implanted in the state of Louisiana by our own Dr. Matthew Smith in 2019.
---
Tecnis Symfony IOL
For those suffering from presbyopia and cataracts, there is a new Intraocular Lens (IOL) on the market called the Tecnis Symfony. The Symfony is the first of its kind that's able to treat both cataracts and presbyopia while improving a full range of vision. Unlike most intraocular lenses, the Symfony IOL exhibits a low instance of the effects of halos and glare around lights. Instead, patients are left with a clear, crisp vision. Even if a patient has cataracts, they get the full range of their vision back: intermediate, distant and near vision. The Symfony IOL allows for a higher quality of life and a lessened dependence on reading glasses.
The Symfony IOL is ideal for patients who are already candidates for receiving cataract surgery. During cataract surgery, the Symfony IOL is implanted in the eye. The Symfony IOL is used to replace the cataract-affected lens in the eye, leaving in its path clearer vision. The Symfony IOL doesn't affect the way that cataract surgery is performed. Instead, it only changes the way that you see after. Most patients are able to see more clearly almost immediately after surgery, and full results are achieved thereafter.
---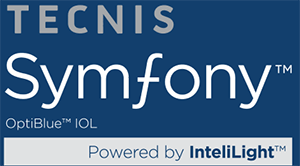 Symfony OptiBlue
TECNIS Symfony OptiBlue extended depth of focus IOL filters violet light and is able to reduce light scatter and lessen instances of halos, glare and starbursts.This violet light filtering does not block blue-wave light giving patients enhanced contrast from day and night. This contrast is critical as patients age to prevent falls, allow for confidence while driving, and improve quality of life near, intermediate and distance.
---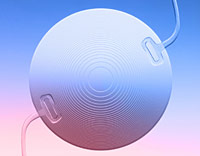 TECNIS Multifocal
The Tecnis lens is classified as a "multifocal" lens as it offers the patient multiple points of focus after surgery. As opposed to only correcting distance vision with the basic lens, the Tecnis lens design allows you to see well at distance, intermediate, and near…often with little need for glasses. You must be a good candidate to receive the multifocal lens and patients with large amounts of astigmatism, a history of prior cornea surgery (such as RK, LASIK, and PRK) as well as those with retina issues (macular degeneration, diabetic retinopathy, prior retinal surgery) are usually not good candidates for this lens. With few side effects, the new Tecnis lens design has greatly improved the occasional glare and halo effect seen with older generation multifocal lenses. This lens is the best option for patients who desire excellent near vision for reading without the use of reading glasses. It's also an excellent choice for the "refractive lens exchange" procedure, which is performed on patients in their 40s and 50s who are unhappy with their inability to read close-up due to presbyopia.
---

Synergy
The TECNIS Synergy lens is a continuous-range-of-vision intraocular lens. Cataracts are the leading cause of blindness worldwide. During cataract surgery, there are a number of lens options out there but the TECNIS Synergy is the first of its kind to provide patients with distance, intermediate, and near vision day and night. The lens provides Violet-filtering technology which allows for superior vision at night and reduces instances of halos some patients experience during nighttime driving after cataract surgery. Other multifocal and trifocal lenses can leave patients with visual gaps but with the TECNIS Synergy, patients can focus at any point within the lens range.
---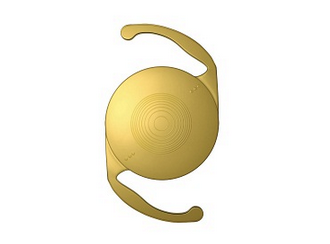 TORIC IOLS
For patients suffering from astigmatism, a Toric IOL lens was created to neutralize the imbalance of corneal asymmetry. Previously, patients with astigmatism in addition to cataracts still had to use glasses or contact lenses to reduce the effects of astigmatism. With a Toric IOL implant rather than a traditional monofocal lens, any imbalance created by astigmatism is reduced and even eliminated, allowing for crystal clear distance vision.
---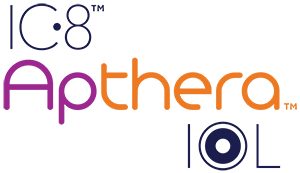 Apthera
Other IOLs split, shift or stretch light whereas the Apthera IOL uses a small aperture technology. The small aperture is able to filter out unfocused light that can cause blurry vision. With the Apthera lens, light can enter the eye naturally and expand a patient's range of vision. The lens provides great vision day and night and is paired with a monofocal lens in the other eye.
---

enVista TORIC ICL
Made by Bausch and Lomb, the enVista TORIC IOL is a monofocal astigmatism correcting lens. The enVista IOL is offered in a variety of powers for most patients' needs. The IOL is engineered to be less susceptible to rotation during the healing process leading to better and more predictable outcomes for patients. There is a micro-grooved edge on the lens to reduce edge glare for patients. The enVista family of IOLs are the ONLY IOLs with FDA-approved glistening-free labeling meaning no one will know it's there.
---

EVO ICL
EVO ICL, also called an Implantable Collamer® Lens, is a refractive implant to correct common vision issues like myopia (nearsightedness) and astigmatism. Unlike some other vision correction options, the EVO ICL is an additive technology that corrects vision without the removal of any corneal tissue. The EVO ICL is meant to reduce or eliminate the need for glasses or contacts and unlike most permanent refractive solutions, EVO ICL is removable.
---