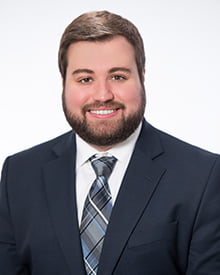 Dr. Leto was born and raised in Baton Rouge, LA. He graduated from Catholic High School and then attended LSU. Dr. Leto completed his undergraduate studies at LSU and received his Bachelor of Science in Biological Sciences as well as a Minor in Business Administration.
Dr. Leto then attended Southern College of Optometry in Memphis, Tennessee where he received his Doctor of Optometry (OD) degree. Dr. Leto completed his externship rotations at the New Orleans VA Hospital and at Bond Wroten Eye Clinics in Hammond, LA.
During his time in Memphis as well at his externship rotations, Dr. Leto received a well rounded background in many areas including contact lens fitting, ocular disease management including glaucoma and diabetic retinopathy, dry eye disease, and pre and post operative surgical management.
In his spare time, Dr. Leto enjoys LSU sports, watching films, and going to concerts.