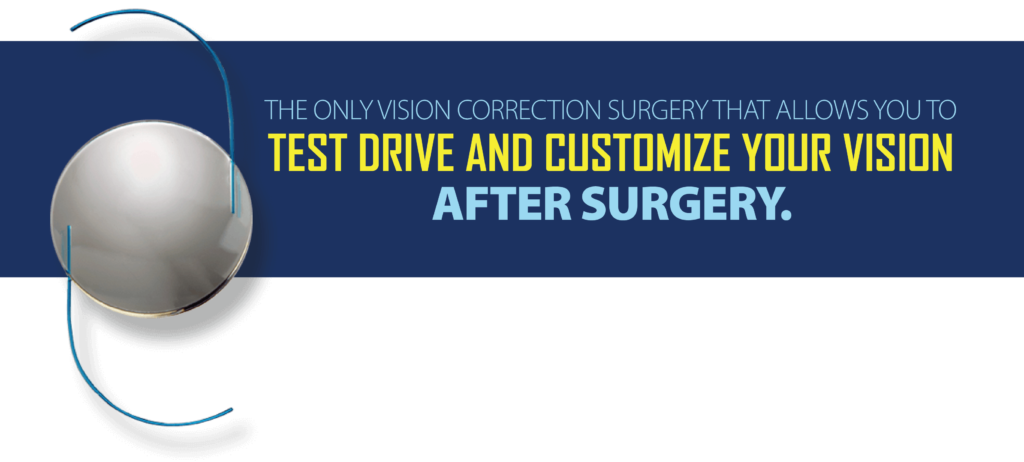 Introducing: The CLR Procedure, Revolutionary Vision Correction Only at Williamson Eye Center
Williamson Eye Center is proud to introduce the only FDA Approved lens where your prescription can be uniquely customized after surgery with the power of UV light. With the CLR (Custom Lens Replacement) Procedure, vision correction can be tailored to your personal needs better than ever before.
The Light Adjustable Lens was implanted for the first time in Louisiana (and as one of the first in the nation) at Williamson Eye Center in Baton Rouge and is the only place for patients to receive this revolutionary lens in the state. This breakthrough technology delivers superior visual outcomes that non-adjustable lenses simply cannot match (1).
Imagine being able to test-drive your vision after surgery and having the ability to tailor your vision to your exact needs… that's now possible with the Light Adjustable Lens. The future of vision correction is here, and it's only available for Louisiana patients at Williamson Eye Center.

If you're ready to get out of distance vision correction glasses and/or contacts as well as readers for near vision for most of your activities, then a Custom Lens Replacement may be a great option for you!
Ready for an evaluation? Call us at 225-924-2020 or request an appointment here.
THE CUSTOM LENS REPLACEMENT DIFFERENCE
The first step of vision correction is to have an evaluation with one of our expert surgeons. Once you and your surgeon determine that a Custom Lens Replacement is best for your visual goals, you'll have your cataract or natural lens removed and the Light Adjustable Lens implanted. This portion of the procedure is the same as if you were to select a non-adjustable intraocular lens implant.
With non-adjustable lenses, your eye doctor uses pre-surgery measurements to estimate the power and type of lens they think will provide you with the best vision after surgery. While these results are still very good, it is still an estimate. Because every eye heals differently, getting "close" to the predicted outcome is often the best result a patient can expect with a non-adjustable lens.
With the Light Adjustable Lens, the guesswork is over.
What's unique about the Light Adjustable Lens is that, after surgery, you will work with your doctor to trial and select your customized lens prescription and make adjustments at a few in-office visits so the results are exactly what you want.
No other lens offers this level of customization.
THE POWER OF LIGHT: ADJUSTABILITY AND PRECISION LIKE NEVER BEFORE
How the Light Adjustable Lens Works
The Light Adjustable Lens is made up of special photo-sensitive material that changes the power of your implanted lens in response to UV light.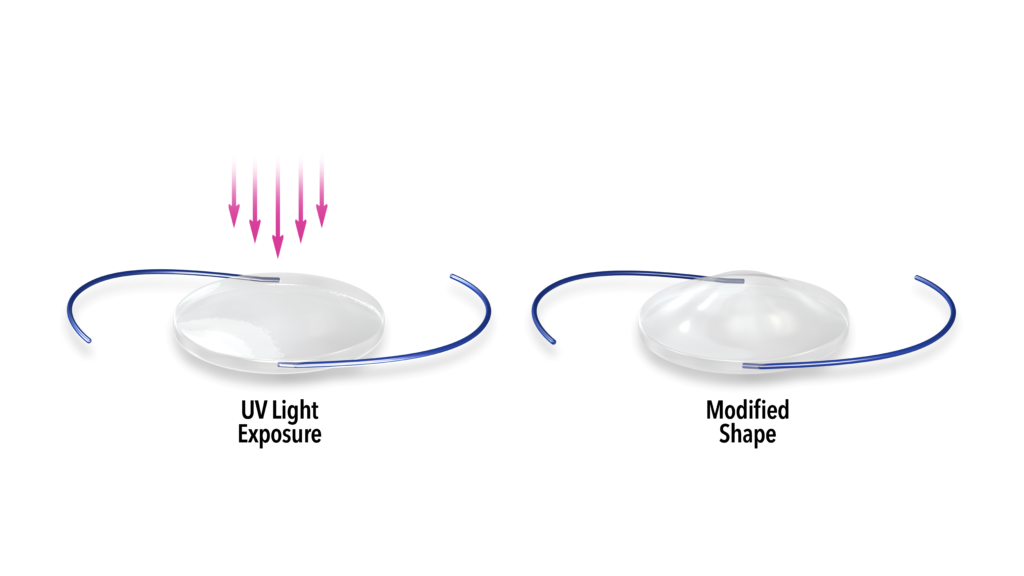 Through a few non-invasive light therapy sessions at our office after surgery, your doctor will manipulate the shape of your lens to lock in the prescription of your choice.
Choosing this technology and following the treatment plan increases the likelihood that you will achieve your desired visual outcome after surgery.

After Surgery
Following your surgery, you will be required to receive between 2 and 4 non-invasive light therapy treatments in our office. Each of these last approximately 90 seconds and are separated by about 3 days.
Because the lens is affected by UV light, you will also be provided with and required to wear a special pair of UV protective glasses at all times during your brief lens adjustment period. After that, you'll enjoy freedom from glasses and contacts for almost all activities in your life!
Find out if Custom Lens Replacement is right for you. Call us at 225-924-2020 or request an appointment here.
We are proud to offer locations in Baton Rouge (both on Connell's Park near Goodwood and on Bluebonnet Blvd in South Baton Rouge), Denham Springs, Gonzales, Zachary and now in New Roads, Louisiana!
Sources:
2016 IOL Report, A Global Market Analysis for 2015 to 2021. Market Scope LLC; 2016.
US Food and Drug Administration. Summary of Safety and Effectiveness (SSED) of Light Adjustable Lens and Light Delivery Device system.
Note: It is important to talk to your doctor about the risks and benefits of vision correction surgery. For more information, please contact us.