Optometrist in Gonzales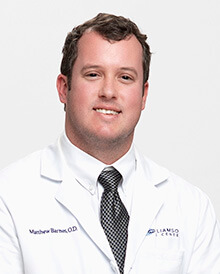 Dr. Barnes was born and raised in Helena, Arkansas. At an early age he knew he wanted to be in a profession where he could help others. He graduated from DeSoto High School in 2011, and from there attended the University of Arkansas in Fayetteville. Dr. Barnes completed his studies at the University of Arkansas in 2015 receiving his Bachelor of Arts in Biology. Upon completion of his undergraduate studies Dr. Barnes attended the Southern College of Optometry in Memphis, Tennessee where he received the degree of Doctor of Optometry (OD) in the spring of 2020.
During his clinical rotations in Memphis, Dr. Barnes received a strong background in ocular disease management, primarily focusing on ocular surface disease and long-term glaucoma management. Dr. Barnes also enjoyed his pediatric rotations where he was able to provide eye care to children as young as 3 months old. Dr. Barnes completed his externship rotations at Bond Wroten Eye Clinic in Hammond, LA as well as Keesler AFB in Biloxi, MS. At his externship sites he excelled in the areas of multifocal contact lens fitting, pre and post-surgical management for cataract, glaucoma, and refractive surgery, as well as chalazion and foreign body removal.
Dr. Barnes' particular interests are in the areas of dry eye management, contact lens, pediatric optometry, and advanced optometric surgical procedures. During his free time he enjoys spending time outdoors. He enjoys hunting, fishing, boating, watching college football, and spending time with his wife Lauren.
Dr. Barnes is a proud member of the American Optometric Association (AOA) and the Optometry Association of Louisiana.
Partial Resume
Received Doctorate of Optometry from Southern College of Optometry
Received Bachelor of Arts in Biology from the University of Arkansas
Book an eye exam with Dr. Barnes at our Gonzales eye clinic by calling 225-644-7525 or request an appointment online here.
Office Location
2308 South Burnside Avenue
Gonzales, LA 70737
(225) 644-7525