With yesterday being World Keratoconus Day, it was a great time to announce a new service that we've introduced for the Greater Baton Rouge Area: Corneal Cross-Linking. In case you missed it on our social media pages, today we're recapping everything you need to know about the Keratoconus disease, signs and symptoms, and treatment options available.
What is Keratoconus?
Keratoconus, often referred to as 'KC', is a chronic eye condition in which the typically round dome-shaped cornea progressively thins and weakens, causing the development of a cone-like bulge and optical irregularity of the cornea. This can cause blurred vision and significant visual impairment. Early detection and intervention is key to saving vision with Keratoconus, this is why an annual eye exam is critical for people of all ages.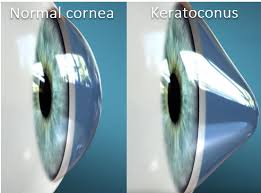 Keratoconus Signs and Symptoms
Keratoconus typically first appears in individuals who are in their late teens or early twenties, and may progress for 10-20 years. Each eye may be affected differently but it does generally affect both eyes. The sooner Keratoconus is diagnosed and treated, the better. Here are some signs and symptoms to look out for:
Slight blurring of vision
Distortion of vision
Increased sensitivity to light
Itching/desire to rub the eyes
The cornea is responsible for focusing most of the light that comes into the eye. Therefore, abnormalities of the cornea, such as Keratoconus, can have a major impact on how an individual sees the world, making simple tasks such as driving a car or reading a book very difficult. Keratoconus may result in significant vision loss and may lead to corneal transplant in severe cases.
Treatment Options
The good news is doctors are now better than ever at diagnosing and treating Keratoconus before it's too late. With advanced testing, our doctors are able to see irregularities in the cornea and recommend the best option to stop progression and save vision.
Williamson Eye Center is pleased to offer Corneal Cross-Linking in Baton Rouge for the first time. Corneal Cross-Linking strengthens the cornea with a goal of stopping progression of the disease and preventing further vision loss and corneal transplants. Previously, patients had to travel to Houston or New Orleans to have this treatment.
Check out this video with Dr. Lawrence Pham, O.D. and Dr. Blake Williamson, M.D. as they discuss the latest in treatment options for this sight-threatening disease:
Before Corneal Cross-Linking, the only treatment was glasses or specialty contact lenses. In severe cases, some patients require a corneal transplant. Now, through this preventative treatment, patients can have peace of mind knowing there is an option to stop progression before the disease gets to that point. Corneal Cross-Linking is also covered by most insurances.
Listen to our patient, Cynthia Ragusa, tell her story about how Corneal Cross-Linking is saving her vision and giving her more confidence in her daily life:
Williamson Eye Center is the proud home to Louisiana's only certified expert scleral contact lens fitter, Dr. Joshua Davidson. For patients with Keratoconus, the ability to stop progression and have custom prescription options for better vision allows them more freedom and comfort. If you are experiencing changes in your vision or if you have not had your annual eye exam, schedule today… it could mean saving your precious gift of sight.
Dr. Joshua Davidson, O.D., discusses Keratoconus and treatment options:
Visit us in the Greater Baton Rouge area at our clinics in Baton Rouge, South Baton Rouge, Denham Springs, Gonzales, New Roads and Zachary.