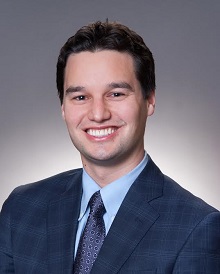 Dr. Joshua Davidson grew up in Bay City Michigan where, from the age of 11, he had his eyes set on Optometry. Dr. Davidson graduated from All Saints Catholic Central and attended The University of Michigan in Ann Arbor for undergraduate where he graduated with a degree in Biology. He went on to complete his Doctor of Optometry (OD) degree at the Michigan College of Optometry. Dr. Davidson's clinical rotations included The William Dorn VA in Columbia, South Carolina, Anderson Eye Associates in Saginaw Michigan, and the Duane L Waters Hospital at the Michigan Department of Corrections Maximum Security Prison in Jackson, Michigan.
Dr. Davidson's interests are in the areas of dry eye treatment, specialty contact lenses, and ocular disease. In his spare time, he enjoys CrossFit, playing softball, traveling, watching college football (his beloved Michigan Wolverines and his adopted LSU Tigers), and spending time with his son, Brooks.
In October 2019 Dr. Davidson attained the highest status in the profession of Optometry, that of Fellow of the American Academy of Optometry (FAAO).  In qualifying and maintaining this fellowship, individuals are evaluated against the highest standards of professional competence.
Dr. Davidson is also proud to be a fellow of the Scleral Lens Education Society (FSLS).  He is currently the only certified "expert" scleral lens fitter in all of Louisiana, Mississippi, or Arkansas.  His interests lie in fitting all specialty contact lenses for high prescriptions, multifocal "bifocal" contacts, keratoconus, post-radial keratotomy, post LASIK, dry eye, amongst countless other ocular issues.  More information can be found at http://sclerallens.org/scleral-fitters
Dr. Davidson also serves on the medical advisory board of Eyevance pharmaceuticals (https://eyevance.com/), is on the editorial board of Modern Optometry magazine, and a paid consultant of Glaukos corporation.
OFFICE LOCATION
550 Connell's Park Lane
Baton Rouge, LA 70806
(225) 927-2020
(800) 375-6828
9001 Summa Avenue, Suite 245
Baton Rouge, LA 70809
(225) 274-3937