Glaucoma is often referred to as "the silent thief of sight". The reason for that is there are often no symptoms. Glaucoma slowly damages the eye and can cause irreversible damage to the vision before a patient even realizes it.
The good news is there is hope and prevention is possible. January is Glaucoma Awareness Month so there's no better time to share information on the advancements in eye care and surgery that are saving vision and helping with the burden of costly medication for patients with Glaucoma.
How Life Looks with Glaucoma
Understanding Glaucoma
As one of the leading causes of blindness in the world, glaucoma affects more than 2.7 million people in the United States and more than 60 million worldwide. The video below describes how Glaucoma affects the eye.
Risk Factors of Glaucoma
Risk factors for glaucoma increase with age, especially for those 60 and older. Some groups have a higher risk of developing glaucoma, including:
Those with a genetic history of glaucoma
Smokers
Diabetics
Patients with Anemia
Hispanics
African-Americans
Patients with a history of hypertension
Prevention and Treatment for Glaucoma
The best prevention against this sight-threatening disease is getting an annual comprehensive eye exam. During this exam, the pressure of your eye will be checked and the doctor will take an in-depth look at the overall health of your eye for any potential signs of glaucoma.
Treatment for patients with glaucoma has advanced tremendously in recent years. Williamson Eye Center is proud to have surgeons who are helping to bring new innovations for patients suffering from glaucoma. Many of which have benefitted from reduced eye pressure and a significant reduction in the need for costly glaucoma medication drops after having minimally invasive glaucoma surgery.
Minimally Invasive Glaucoma Surgery
MIGS has become a commonly used abbreviation in the glaucoma world. It stands for minimally invasive glaucoma surgery and is performed during part of a patient's cataract procedure.
The goal of all glaucoma surgery is to lower eye pressure to prevent or reduce damage to the optic nerve. Many patients at Williamson Eye Center who have had the procedure have experienced a more stabilized eye pressure and have been able to reduce the need for costly medication drops!
In the video below, Dr. Matthew Smith talks with a happy patient who was seeing 20/20 right after her cataract and glaucoma procedures!
In the past two years, surgeons at Williamson Eye Center have brought new options for treating glaucoma patients in the Baton Rouge area for the first time.
Dr. Blake Williamson was first in Louisiana to implant the iStent Inject, the smallest medical device in the world.
Dr. Blake Booth helped bring the Hydrus Microstent for the first time to Louisiana.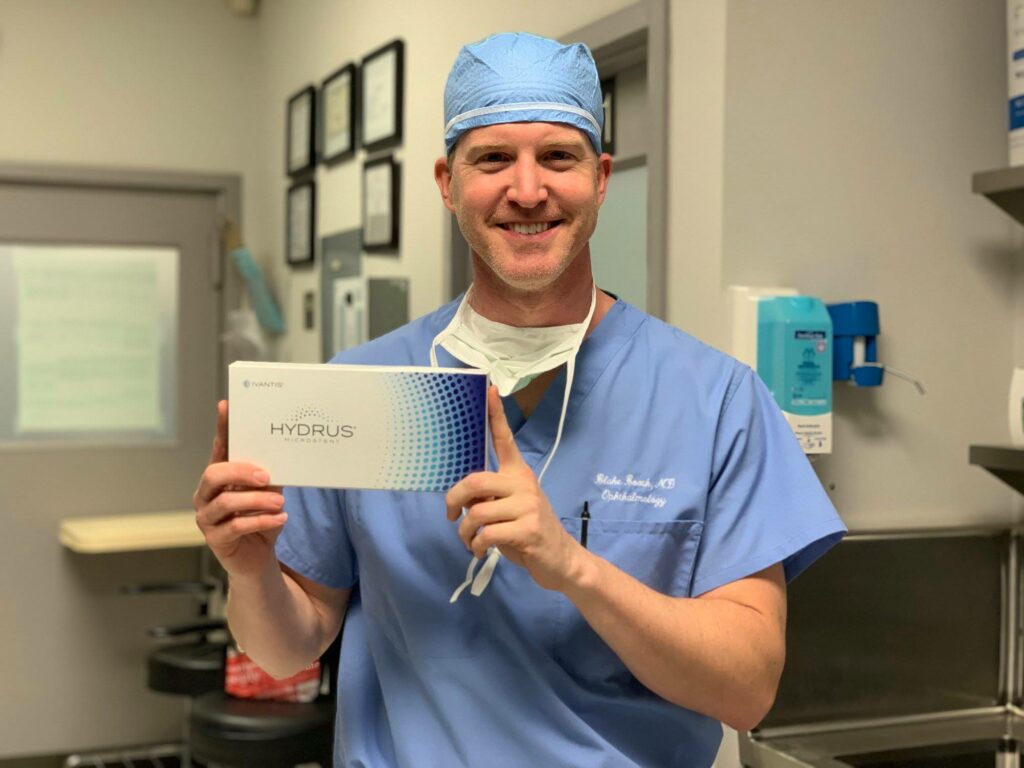 For all of our doctors, the most important thing is bringing the safest and most advanced options available to treat our patients. We've seen great success and so many happy patients after having minimally invasive glaucoma surgery during their cataract procedure.
If you or a loved one are suffering from glaucoma, schedule an evaluation online or call 225-924-2020 to book an appointment with one of our doctors to learn what options might help protect from the silent thief of sight.
Sources: