ABOUT DR. WILLIAMSON: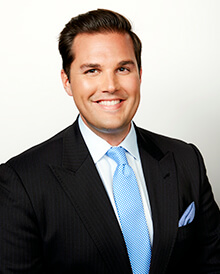 Dr. Blake K. Williamson, MD, MPH, MS is a third generation eye doctor who will continue on the tradition and legacy of his family, which has been taking care of the great people of Louisiana for nearly 70 years. Dr. Williamson was born and raised right here in Baton Rouge and has placed a strong emphasis on education and academic achievement throughout his life, first as a graduate from the Episcopal School and later going on to earn Master's degrees from both Columbia University in New York City as well as the world-renowned Johns Hopkins Medical Center. With a goal of taking care of the people of his home state, Dr. Williamson returned to Louisiana completing his medical school and ophthalmology residency training at LSU and Tulane respectively.
While training at Tulane, Dr. Williamson quickly developed a reputation as a skilled surgeon and he would go on to perform the most phaco cataract surgeries in the history of the residency program, which dates back 100 years. Innovating and using the latest techniques was also a strong focus, and Dr. Williamson was one of the first resident physicians from the United States to perform all bladeless femtosecond laser cataract surgery. He was also the first resident physician in the southern United States to become certified using iStent, a novel surgical device for the treatment of glaucoma and the smallest FDA approved medical device in the world. Dr. Williamson remained devoted to research and education during his training and was awarded the highest honor at the annual Tulane O'Brien Research Symposium two years in a row for his work on microscopic glaucoma devices in New Zealand white rabbits. Concern for those less fortunate and giving back has been a strong conviction throughout his career and as a Unite for Sight Global Impact Fellow he has performed surgery on 3 continents and continues to participate on surgical missions around the world.
After finishing residency training Dr. Williamson completed a one-year fellowship in refractive cataract & advanced anterior segment surgery as well as iLASIK with internationally recognized cataract and refractive pioneer Dr. Charles Williamson. He now practices comprehensive ophthalmology, specializing in state of the art laser guided cataract surgery that reduces or eliminates the need for glasses post-operatively, as well as bladeless all-laser iLASIK. Dr. Williamson is passionate about dry eye management and has helped Williamson Eye to become recognized nationally as a "Dry Eye Center of Excellence". Following the pioneering tradition put forth by his family for decades, in 2016 Dr. Williamson became the first surgeon in Louisiana state history to implant the newly FDA approved extended depth of focus "Symfony" lens. He also became the first surgeon in the state to implant a corneal inlay for the treatment of presbyopia. He is on the cutting edge of modern minimally invasive techniques to treat glaucoma and reduce or eliminate the need for glaucoma eye drops by performing micro-invasive glaucoma surgery (MIGS). Dr. Blake was the first surgeon in South Louisiana to implant the CYPASS and XEN glaucoma stents. He was one of the youngest surgeons to be invited into the prestigious American European Congress of Ophthalmic Surgeons as well as one of the youngest to serve on the refractive editorial board of "Eye World Magazine", one of the most widely read journals in ophthalmology.  Dr. Blake is active within the Refractive Surgery Alliance and serves on the editorial board for "Millennial Eye". He is a board member of the Louisiana Association of Eye Physicians and Surgeons, member of the American Academy of Ophthalmology (AAO) and the American Society of Cataract and Refractive Surgery (ASCRS). Dr. Williamson is considered a Key Opinion Leader and consultant for several pharmaceutical and surgical device companies and has lectured nationally at both the AAO and ASCRS meetings, the largest ophthalmology conferences in the United States. In his free time, Dr. Williamson enjoys music, LSU sports, and traveling with his wife and two sons.
PARTIAL RESUME:
Tulane University- Ophthalmology Residency
LSU Health Sciences Center- M.D.
Johns Hopkins Medical Center- M.P.H.
Columbia University- M.S.
Member of the Board, Louisiana Association of Eye Physicians and Surgeons
Member, American Academy of Ophthalmology
Member, American Society of Cataract and Refractive Surgery
OFFICE LOCATION
550 Connell's Park Lane
Baton Rouge, LA 70806
(225) 927-2020
(800) 375-6828
2290 South Range Avenue
Denham Springs, LA 70726
(225) 665-2019