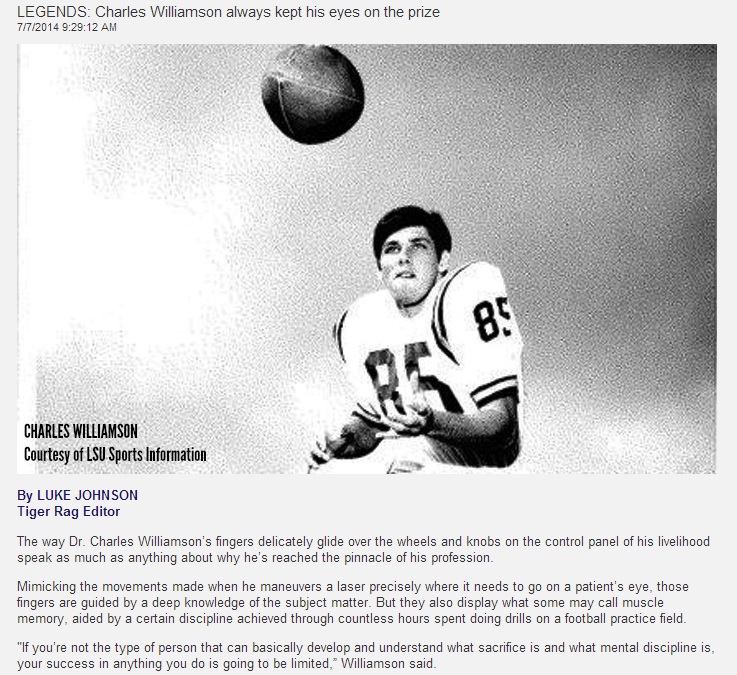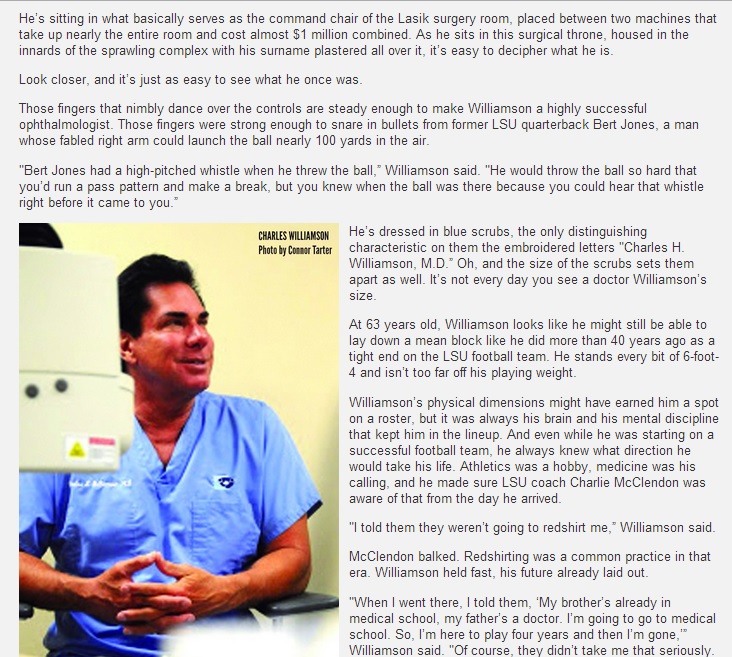 "The way Dr. Charles Williamson's fingers delicately glide over the wheels and knobs on the control panel of his livelihood speak as much as anything about why he's reached the pinnacle of his profession.
Mimicking the movements made when he maneuvers a laser precisely where it needs to go on a patient's eye, those fingers are guided by a deep knowledge of the subject matter. But they also display what some may call muscle memory, aided by a certain discipline achieved through countless hours spent doing drills on a football practice field.
"If you're not the type of person that can basically develop and understand what sacrifice is and what mental discipline is, your success in anything you do is going to be limited," Williamson said.
He's sitting in what basically serves as the command chair of the Lasik surgery room, placed between two machines that take up nearly the entire room and cost almost $1 million combined. As he sits in this surgical throne, housed in the innards of the sprawling complex with his surname plastered all over it, it's easy to decipher what he is.
Look closer, and it's just as easy to see what he once was.
Those fingers that nimbly dance over the controls are steady enough to make Williamson a highly successful ophthalmologist. Those fingers were strong enough to snare in bullets from former LSU quarterback Bert Jones, a man whose fabled right arm could launch the ball nearly 100 yards in the air.
"Bert Jones had a high-pitched whistle when he threw the ball," Williamson said. "He would throw the ball so hard that you'd run a pass pattern and make a break, but you knew when the ball was there because you could hear that whistle right before it came to you."
He's dressed in blue scrubs, the only distinguishing characteristic on them the embroidered letters "Charles H. Williamson, M.D." Oh, and the size of the scrubs sets them apart as well. It's not every day you see a doctor Williamson's size.
At 63 years old, Williamson looks like he might still be able to lay down a mean block like he did more than 40 years ago as a tight end on the LSU football team. He stands every bit of 6-foot-4 and isn't too far off his playing weight.
Williamson's physical dimensions might have earned him a spot on a roster, but it was always his brain and his mental discipline that kept him in the lineup. And even while he was starting on a successful football team, he always knew what direction he would take his life. Athletics was a hobby, medicine was his calling, and he made sure LSU coach Charlie McClendon was aware of that from the day he arrived.
"I told them they weren't going to redshirt me," Williamson said.
McClendon balked. Redshirting was a common practice in that era. Williamson held fast, his future already laid out.
"When I went there, I told them, 'My brother's already in medical school, my father's a doctor. I'm going to go to medical school. So, I'm here to play four years and then I'm gone,'" Williamson said. "Of course, they didn't take me that seriously.
"Professional sports didn't pay as much then, the careers were shorter, and I was smart enough to realize then that regardless of what accolades I received, I was a lot better student than I was as a football player. So that propelled me into medicine."
When Williamson finished his undergraduate degree at LSU, he told McClendon he was done. McClendon could do nothing but watch with consternation as Williamson walked away from football with a year of eligibility remaining to study medicine at the LSU Health Sciences Center in Shreveport.
Turns out, it was probably a good idea to let him go.
Years after he left LSU, McClendon lost an eye to cancer. He re-acquainted himself with Williamson when he developed a cataract in his remaining eye.
"We did surgery on his only eye, which you do while people are awake with some light local anesthesia because it's a quick procedure," Williamson said. "As I was doing the surgery, I said, 'Coach?' He said, 'Yeah?' I said, 'Remember when you were pissed off that I went to medical school?'"
It's obvious that he's told this story plenty of times before, but he still gets a kick out of it. He laughs.
"At that point he said, 'Yeah, I see things from a little different perspective here.'"
Williamson is not sure if he would've taken the same path had he played football in the current era.
In his time, Williamson said a lot of the players "were doctors, lawyers, businessmen, journalists — various other occupations masquerading as football players."
Flash-forward, and football players sign multi-million dollar contracts with regularity. Medicine, meanwhile, has become an increasingly difficult field in which to advance.
"Medicine has become a much harder road, much more difficult and much more regulated than becoming a professional football player," Williamson said. "Nowadays, I probably would have stayed an extra year. If I was good enough, I probably would have tested the market to be a pro player."
But medicine has worked out pretty well for Williamson and his family.
Williamson's practice, the Williamson Eye Center, has now been operating for 30 years and is now one of the largest of its kind. It expanded as his children went on to their own successes before some returned to help with the family business — his four children might one day have more advanced degrees from prestigious schools than Williamson has dexterous fingers.
"The real question is, did you end up doing what you like doing?" Williamson asked.
It's a rhetorical question. The healer in an athlete's body looks completely content in his throne."