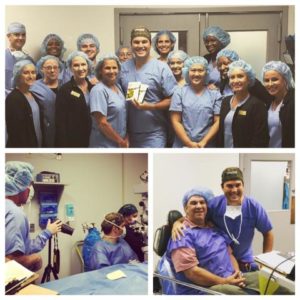 Undaunted by the recent destruction of the Denham Springs clinic, Dr. Blake Williamson of the Williamson Eye Center became the first eye physician and cataract surgeon in Louisiana to surgically implant the Tecnis Symfony® Intraocular Lens by Abbott Med Optics. This technology is a new proven treatment for cataracts that has been used in 50 countries throughout the world but only recently approved by the FDA. Dr. Williamson is the first surgeon to bring this revolutionary lens to Louisiana, after visiting with surgeons in London and Greece that are considered global authorities on this new technology.
"We can't be deterred by this recent natural disaster that has displaced and affected so many of our patients," Dr. Williamson stated. "The first two patients receiving this lens are from the area of Livingston Parish that has been so devastated by this flood."
The Tecnis Symfony® Intraocular Lens is an entirely new intraocular lens design to be placed into the eye after the cataract has been removed. The advanced lens technology not only treats cataract but also presbyopia, an age-related loss of the eyes' ability to focus on near objects; as a result, cataract patients will have a decreased need for glasses both at distance and near.
"These expanded depth of focus" or EDOF lenses are new to the United States and represent a huge step forward in technological innovation for cataract patients," states Dr. Williamson. The new Symfony® lens elongates the focus light into a single beam allowing for less glare and halo, as well as fewer issues with contrast sensitivity. Patients who suffer from astigmatism can also benefit from the Symfony®, since it has a toric, or astigmatism correcting, version available as well.
With 30 employees affected by the historic flooding, the clinic initiated an employee assistance fund and is coordinating numerous donations. Administrator Charles "Chuck" Williamson Jr. hopes to have the Denham Springs eye center reopened within a month. Dr. Bill Williamson, Dr. Blake Williamson and Dr. Jeff Dibenedetto, also of the Denham Springs location, are temporarily located at the Baton Rouge clinic. Williamson Eye Centers in Zachary, Gonzales, and Baton Rouge are open and available to Denham Springs patients.