Optometrist in Gonzales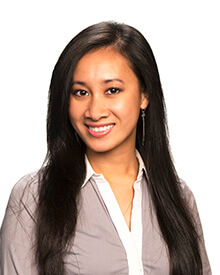 Dr. Bichngoc Pham is a Doctor of Optometry, practicing Optometry at the Williamson Eye Center where she specializes in comprehensive eye exams and the diagnosis and management of ocular diseases. Dr. Pham received her Doctorate of Optometry from the University of Houston College of Optometry and has a Bachelors in chemistry, with a minor in biology, from Louisiana State University.
Dr. Pham has gained first-hand experience in the field of Optometry through her externships, focusing primarily on ocular diseases and primary care. She became thoroughly educated and trained in performing eye exams and providing corrective lenses, contacts, and contact fittings, dry eye disease, corneal pathologies, retinal pathologies, and post-surgical and laser procedure management.
Specifically, during her externship at the University of Houston Ocular Diagnostics and Medical Eye clinic, Dr. Pham received advanced training in pre and post-operative care of retinal, glaucoma, and oculoplastic surgical and laser procedure patients by directly observing surgical procedures and ocular injections. Following, she gained hands-on experience on several laser treatments including YAG Capsulotomy, LPI, and SLT at the DeSoto Regional Eye Institute and Surgery Center.
Dr. Pham has a strong passion to work with children and special need patients. She was provided the opportunity to combine her passion and profession to provide ocular examinations to children and adults with special needs at the Special Needs Adult and Pediatric Service Rotation. Dr. Pham also gained experience at the 2015 Arlington Special Olympics where she became proficient at performing full eye examinations for nonverbal patients with special needs. In addition to her passion and profession, Dr. Pham has been an active volunteer at the St. Anthony Church for many years and is currently volunteering as a second grade Sunday school teacher.
Partial Resume:
University of Houston College of Optometry, O.D.
Louisiana State University, B.S. Chemistry, Minor in biology
Orthokeratology certified (CRT, VST)
Cardiopulmonary resuscitation (CPR)
Volunteer Optometric to Humanity
Bilingual: Vietnamese and English
Office Location
550 Connell's Park Lane
Baton Rouge, LA 70806
(225) 927-2020
(800) 375-6828
2308 South Burnside Avenue
Gonzales, LA 70737
(225) 644-7525