OUR SURGEONS BELIEVE IN THIS TECHNOLOGY SO MUCH, THEY'VE HAD IT DONE ON THEMSELVES
SAFER PROCEDURE, BETTER RESULTS
The first step of the LASIK process includes creating a flap on the cornea with a microkeratome or a Femtosecond laser. With the recent development of the Intralase femtosecond laser, patients have the opportunity to experience a LASIK method that is 100% blade-free. This method assures a greater level of comfort for the patient, added accuracy, and improved results. However, the experience and skill of the surgeon is a real factor in creating the flap with either technology. At Williamson Eye Center, our surgeons believe in only offering the latest and best technology for our patients. For that reason, all patients receive a 100% blade-free procedure with the most advanced testing available, providing you with comfort and piece of mind that your results will be as best as possible after surgery.
The Visx Star S4-IR Excimer Laser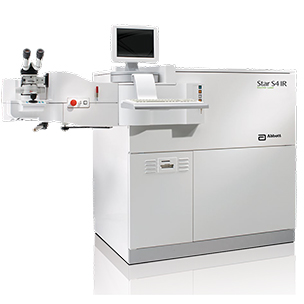 Since their beginning, Excimer lasers have come leaps and bounds, giving patients absolutely incredible results and visual freedom. Until recently, there has never been a laser that has taken the reputation of iLASIK to such high levels. The introduction of the latest VISX Star S4-IR has the ability to integrate the technology of three key components.
The VISX Star S4-IR: The most technologically advanced laser on the market today, delivering the most accurate results. This advanced laser provides patients with the assurance of optimized treatment time and an incredible level of accuracy, meaning even if you have been told in the past that you are not a candidate for LASIK, you may benefit from this amazing technology. Some of the benefits of the VISX Star S4-IR include:
Variable Spot Scanning (VSS) – this feature creates an array of beam sizes, meaning corneal tissue is preserved and your treatment time is the best possible.
Variable Repetition Rate (VRR) – treatment can be delivered at different rates, this too will mean a treatment time that is unparalleled.
ActiveTrak 3D Eye Tracking/Centering- with this treatment, there is no eye dilation needed, every eye movement is tracked no matter how small. The laser will automatically find the center of your pupil, meaning no room for error.
Iris Registration –
Structured to work with every patient's individual needs and customizable options for varied prescriptions, the VISX Star S4-IR provides unparalleled results. Expected to provide each patient with vision correction results that exceed 20/20, the VISX Star S4-IR sets goals that were merely inconceivable in the past.
If you think you may be a candidate for iLASIK in the greater Baton Rouge area, or want to know more, contact us today! Now offering free virtual consultations so you can learn everything you've always wanted to know about LASIK from the comfort and safety of home, or the convenience of work without driving to an appointment – book here through our easy online scheduler.